In the writing world, there's a lot of emphasis placed on genre. After all, knowing what you write, who it's for, and how to reach your market are critical elements of many a successful career, and so much of that boils down to understanding genre. There's also a low, constant buzz about concept. What does high concept mean, is it necessary, and how does it play into an author's potential to achieve bestseller status or sell into Hollywood? This month, I present a new way to think and talk about fiction—one that argues genre isn't everything and concept isn't always king.
Conceptual appeal gets a lot of positive press, and high-concept stories do tend to rise to the top of any given slush pile. Why? Because they feel new and fresh and pitchable and buzzworthy. If you've ever received a rejection that says your manuscript is "too quiet," what the person doing the rejecting is most likely commenting on is your concept. Or lack of concept. They want an idea that feels bigger, something that's going to stand out on its genre's shelf rather than conform to it.
But is high concept really the only way to get your book published? Absolutely not. In fact, concept is just one of four ways that stories appeal to readers. In addition to conceptual appeal, there is also emotional appeal, experiential appeal, and literary appeal.
Conceptual Appeal
A story with conceptual (or high-concept) appeal is built on a clear, easy-to-pitch premise.
That's a definition you'll find floating all over the Internet, but it's about zero-percent helpful to writers trying to wrap their creative brains around the idea of conceptual appeal. That's because the pitch for a high-concept story must be much more than clear and brief. (In other words, you can deliver a clear, one-sentence pitch for a story that doesn't carry a single hot ounce of conceptual appeal.) So what's the missing ingredient that will make a highly pitchable story truly conceptually appealing?
Stories with conceptual appeal deliver something unique—some fresh twist or never-been-seen-before what if…? that makes people's eyes light up. If your pitch gets strangers (not friends and family) saying…
That's a million-dollar idea!
How in the world did you come up with that?
I can't imagine how your story is going to resolve that problem!
I wish I'd come up with that idea!
…then congratulations! You have a story with conceptual appeal.
Here's another key feature of stories with conceptual appeal: They will only be new and unique once. After they explode onto the scene, they get broken down into tropes that get reimagined by writers writing to the market, hoping to capture the vast readership you've amassed. (Ask any agent who was in the biz in the wake of Harry Potter how many query letters they received for middle-grades featuring magic boarding schools. Ask how many they're still receiving.)
This is not a judgement statement by the way; it's merely a description of how high-concept books cause genres to shift as readers develop appetites for new types of stories they never knew they were missing.
Emotional Appeal
The emotion-driven story engages our hearts, our primal selves, maybe even our very souls. It promises to make us Feel Something Big that will stay with us long after we finish reading. Whether that something is joy, sorrow, or terror, authors whose stories are foremost an appeal to emotion do their best work when they're tapping into the human condition. These stories often dive deep into the following:
Connection (family, friendship, love, reconciliation, redemption)
Endeavor (conflict, struggle, indomitable spirit, triumph against insurmountable odds)
Separation (failure, pain, loss, death)
Experiential Appeal
Stories with experiential appeal must be experienced to be felt or understood. They are difficult to describe (and even more difficult to pitch), and any attempts to do so often end with, "You just have to read it to get it." In the movie world, there are plenty of great examples of experiential appeal: Memento, 2001: A Space Odyssey, Inception, and The Matrix*, to name a few. Experiential fiction often intersects with the speculative genres—especially science fiction, magical realism, and horror—but it doesn't have to. You can write a story in any genre that unfolds in a "you just have to read it to get it" sort of way.
*Before we move on, let's chat about The Matrix, which many might argue is high concept. I disagree. Remember that stories with conceptual appeal are based on a clear, easy-to-pitch premise. Can you write a clear, one-sentence pitch for The Matrix? Can anyone? Sure, you can briefly encapsulate the core premise: "What if all humans were living comfortable but virtual lives, and the cost of waking up to the truth meant living in a dystopian hell?" But this concept as pitched doesn't even come close to the experience of the movie itself. So although the writers landed on conceptual appeal, it was their choice to let the story unfold in an experiential way that truly blew moviegoers' minds. Therefore, the conceptual appeal of The Matrix is secondary to its experiential appeal.
Literary Appeal
Writers who aim to appeal to readers' sense of literary excellence put the writing itself first. The artistry of the style, voice, rhythm, meter, lyricism, phrasing, use of poetic devices, and so on, are as important (if not more) than plot, action, or a snappy pace. In other words, these are stories readers find worth reading for how they are told.
A term adjacent to "literary" is "upmarket," which you might see on agents' and editors' wish lists. Upmarket refers to works that employ familiar features, tropes, or structures of genre or commercial fiction but that are told in a more literary writing style. So if you're a writer striving to appeal to readers who appreciate the artistry of language, but you also want to play in the sandbox of a favorite genre, then you are an upmarket writer. Hooray!
The Genre-Appeal Grid
Now that you know the four ways fiction can appeal to readers, what's next? Check out the grid below, which features the four appeals across the top and a few (but definitely not all) genres down the side. Where does your current work-in-progress fit? Keep in mind:
Knowing your story's genre as well as its primary appeal can help you figure out how you want to approach the telling of that story.
A story can appeal to readers in more than one way. Maybe, like The Matrix, your book has a primary appeal and a secondary appeal.
More isn't better. Trying to write a story that appeals to readers in all four ways is like trying to write a story that crosses too many genres: you'll end up with a muddy mess that in its manic attempt to be for everyone will actually be for no one.
Whichever square on the grid feels most like home to you can help you define your niche and author brand. You're the one who writes experiential historicals! You're the one who writes literary westerns! And you! You're the one who writes high-concept romance!
Or every book you write can belong to a different square. You decide!
Every square on the grid is valid. None is better than any other. Your success lies in how you execute the story you want to tell, for the readers you want to write for because they value the same things about story that you do.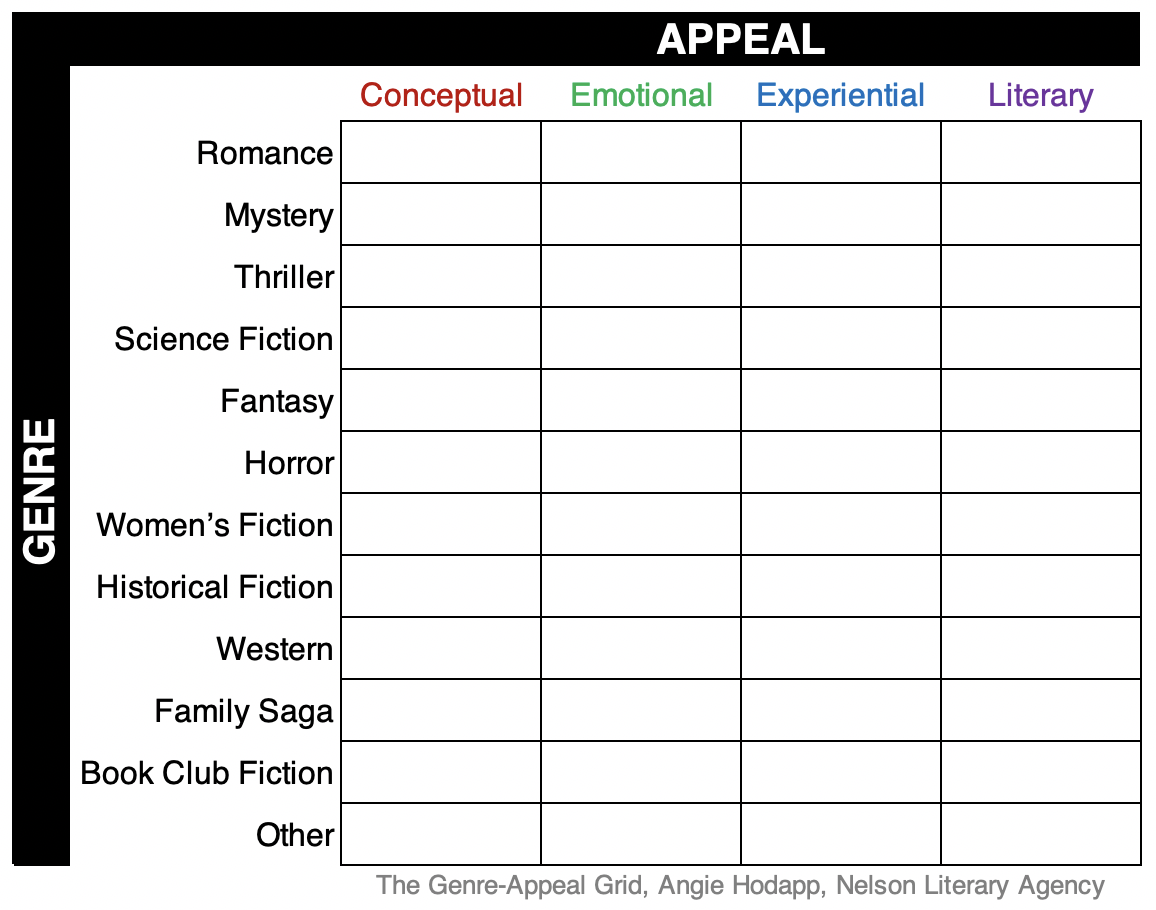 Photo by Gratisography from Pexels
Tags:
author brand
,
concept
,
conceptual appeal
,
emotion
,
emotional appeal
,
experiential appeal
,
genre
,
genre-appeal grid
,
high concept
,
literary
,
upmarket