Every week I receive multiple inquiries from aspiring writers asking if there are job openings at Nelson Literary. I applaud the chutzpah (after all, you won't know if you don't ask), but alas, NLA is not currently hiring. But I have to say this: Although an inside look at publishing provides a huge education for any aspiring writer, working in publishing might kill your desire to write.
There are always exceptions to the rule. I can name any number of working editors who also enjoy successful careers as authors. There are plenty of agents who do the same. But I also know that every assistant I've ever had was initially an aspiring writer looking to understand the business that was fueling their passion. And almost all of them—Anita, Becky, Jamie, and now Tallahj—chose to leave the daily grind of publishing to embrace their true passion of writing (or a similar creative endeavor). They all ultimately decided that the daily work was killing the creative spirit.
Tallahj came to NLA after she stood up at her high-school career day and declared she wanted to be a publisher because she loved to write. We asked her to come learn all about it with us. Six years, a high-school diploma, and a bachelor's degree in English later, she is off to a new adventure in the audiovisual graphic arts. I sat down with Tallahj to get the scoop. We laughed (and I cried a little) when we remembered some of the fun stories with her at NLA. Mine was how all of us pitched in to teach her how to type (no two-fingered hunting and pecking!) and cheered her on during her timed keyboarding tests (and presented her with a surprise grand prize when she passed at last). Hers was about when we took her out to lunch and convinced her to try artichoke dip. Whoops! That was an epic fail. Now she loves all kinds of food and is a master of all things social media and video editing—and she can run circles around my typing ability.
Me: What surprised you most about working in publishing?
Tallahj: Working at NLA shifted my perspective completely on the way I read. Before, if I was interested in the concept, I was happy to read it—even if the writing was only average and all the characterization was on the surface. Now I find myself reading novels and reading between the lines by focusing on what is not on the page as my avenue to understanding characters. Two of my favorite reads that do exactly that are Jason Reynolds's Long Way Down and Ellen Hopkins's Crank. Reading and analyzing the opening chapter of Nyxia by Scott Reintgen is what taught me the importance of that as part of the job.
Me: When working at NLA, did you read less for pleasure?
Tallahj: Yes, very much so. Part of that might also be because I was in school earning my Bachelor of Arts, but it's also because I changed as a reader. Reading used to be a way to "turn off the brain." When I was working, I had to do the opposite and "turn on the brain." By the end of the day, I was just done with words. This was also how I ended up finding my true passion creating videos and doing audiovisual editing.
Me: Did working in publishing impact your desire to write?
Tallahj: I definitely wrote a lot less during my time working at NLA, but when I do write, I write with more of a purpose now. For me, it changed how I would get to a story's end. Before, I was always focused on simply writing just to finish the story. Now, I'm much more focused on how I get to the end part of the story. I focus so much more on craft, so I end up with a lot more works-in-progress.
Me: Now that you are pursuing a different job outside of publishing, will writing be more of a creative outlet?
Tallahj: It's definitely a creative outlet I want to hold on to. I also want to tap back into the passion I felt for reading before I worked in NLA.
Me: What are you grateful to have learned during your experience with NLA?
Tallahj: Having the inside look gave me information I never would have learned otherwise, but aspiring writers don't need to work in the industry to get that information. I learned that so much of it is actually readily available through reading Publishers Lunch, subscribing to agency newsletters, following editors and agents and other writers on social media, and attending critique groups. Aspiring writers should plug into all of that. Working in the field can stifle that passion.
After my interview with Tallahj, my takeaway is that if you are an aspiring writer, maybe don't work in the field. If you are an aspiring agent (but not a writer and simply a lover of books), then publishing might be a profession worth exploring.
Thank you for everything, Tallahj. You've been a joy in our daily lives for years. We will miss you, but I also know we are going to watch you soar as you choose what you really want to do in your life.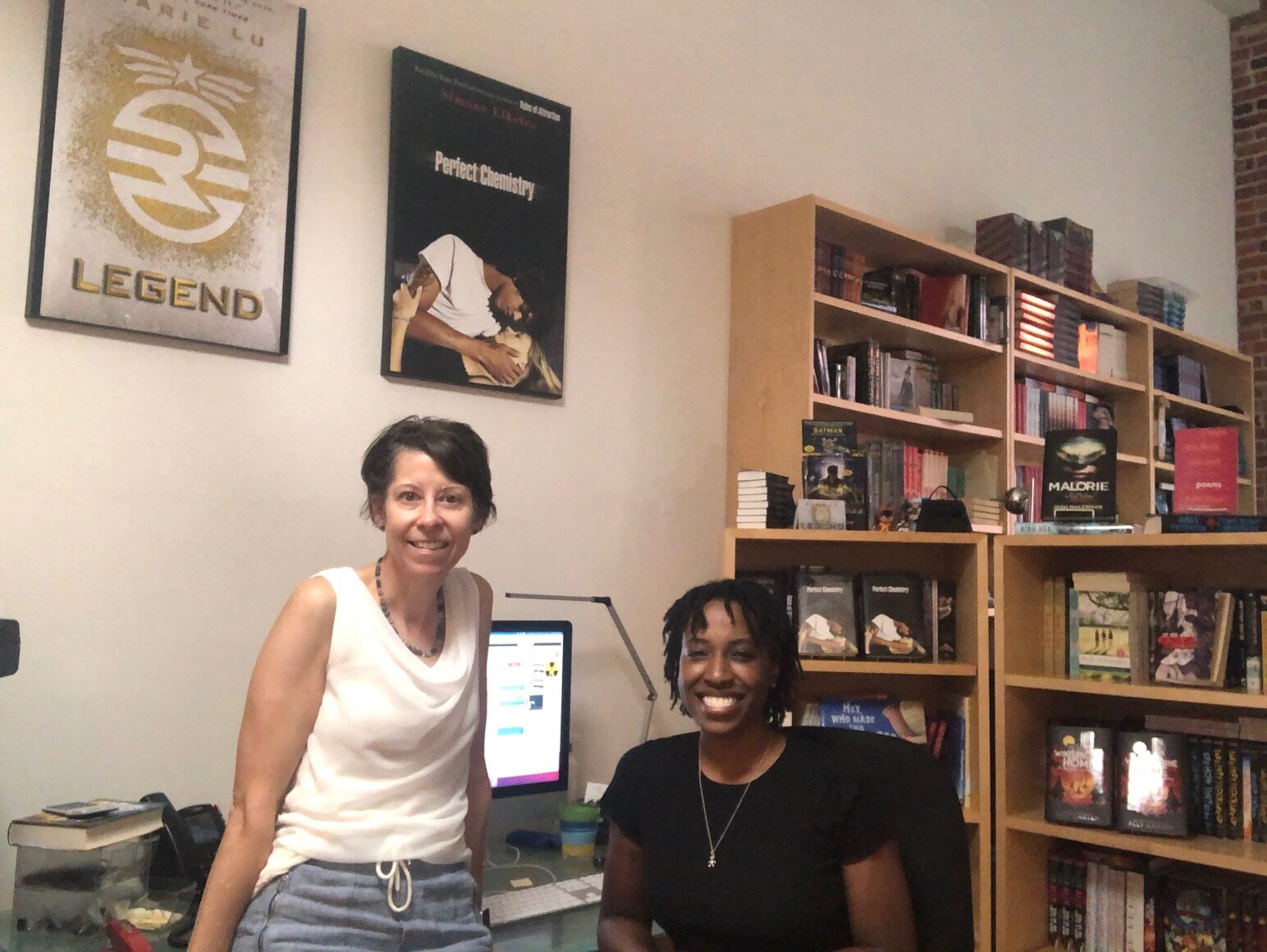 Main Post Photo Credit: Complot
[Check out former NLA assistant Rebecca Taylor's latest release, Colorado Book Award finalist The Secret Next Door, and former NLA assistant James Persichetti's upcoming debut release The Sapling's Curse.]